Hire a Genealogist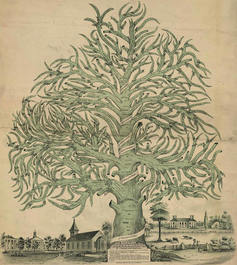 New Jersey Genealogy is a great resource for your ongoing family history research. Many billions of records for New Jersey are not available online, however, and often must be obtained in person from places like county courthouses, town clerks' offices, public libraries, churches, and historical societies located throughout the state. Many interesting records can also be found at the New Jersey State Archives, New Jersey State Library, and the Family History Library in Salt Lake City. If you need assistance locating records that you don't have easy access to, let the experts at
MyGenealogist.com
help you with your research in New Jersey. With an extensive network of researchers in places like Trenton, New York City, and Utah, they are ready to assist you with your research in New Jersey and elsewhere.
There is only so much that can be accomplished online. The internet is a great place to start your research in New Jersey, but if your ultimate goal is to build a well-documented family history over many generations, you will at some point need to visit local archives and libraries in places like New Jersey, Salt Lake City, and elsewhere. There are literally billions of genealogical and historical records in New Jersey that aren't yet available online and may never be. It's hard for many us to travel to archives and libraries in New Jersey, especially when living in another state or even another country. Having a local researcher available to assist you with pulling court records, property deeds, vital records, local histories can be a great asset to your ongoing research.
---
New Jersey County Pages

Many New Jersey family records can be found online and at various archives and libraries located throughout the state of New Jersey. Many millions of records aren't yet available online, though, and many of these are awaiting your discovery at the local level at county courthouses, historical societies, churches, town clerks' offices, cemeteries, and elsewhere in New Jersey. To find these and other records, click on the links below to find more information about the specific counties where your ancestors lived in New Jersey. You'll find information on these pages that will lead you to the specific documentation you're searching for.

It is important to keep in mind when doing research that the names and boundaries of certain counties in New Jersey have changed over the past few hundred years. Your ancestors may have lived on a certain farm in one county and when borders were redrawn records relating to your family history might have been located in another area entirely. When searching for land, court, tax, and other records it is also a good idea to search for these records in adjacent counties. Following is a complete list of New Jersey's 21 counties along with their formation dates, county seats, and names of parent counties.

Formation Date

1837

1675

1681

1844

1685

1748

1675

1686

1840

1714

1838

1675

1675

1739

1850

1837

1681

1688

1753

1857

1824


County Seat

Mays Landing

Hackensack

Mount Holly Township

Camden

Cape May Courthouse

Bridgeton

Newark

Woodbury

Jersey City

Flemington

Trenton

New Brunswick

Freehold Borough

Morristown

Toms River

Paterson

Salem

Somerville

Newton

Elizabeth

Belvidere


Parent County

Gloucester County

Original county

Original county

Gloucester County

Burlington County

Salem County

Original county

Burlington County

Bergen County

Burlington County

Various counties

Original county

Original county

Hunterdon County

Monmouth County

Bergen & Essex Counties

Original county

Middlesex County

Morris County

Essex County

Sussex County

USA State Resources
Follow the links below to find many other helpful resources available in the U.S. states where
your ancestors lived in the past.
Alabama Alaska Arizona Arkansas California Colorado Connecticut Delaware Florida Georgia Hawaii Idaho Illinois Indiana Iowa Kansas Kentucky Louisiana Maine Maryland Massachusetts Michigan Minnesota Mississippi Missouri Montana Nebraska Nevada New Hampshire
New Jersey
New Mexico
New York
North Carolina North Dakota Ohio Oklahoma Oregon Pennsylvania Rhode Island South Carolina South Dakota Tennessee Texas Utah Vermont Virginia Washington West Virginia Wisconsin Wyoming